Booming house prices and stock market gains contribute to wealth as number of millionaires in UK rises by 200,000 in five years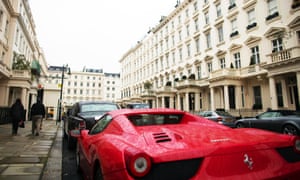 Luxury cars in Kensington, London, which remains the most prosperous region. Photograph: Bloomberg/Getty Images
The number of millionaires in the UK has shot up by 41% over the past five years, with one in 65 adults now classed as having a seven-figure fortune thanks to booming house prices and stock market gains.
There are now 715,000 millionaires living in Britain compared with 508,000 in 2010, data from Barclays UK shows. Nearly half (48%) of all new millionaires since 2010 live outside London and the south-east.
The bank's prosperity index found that Reading, Cambridge and Birmingham are the most affluent cities outside of London, and the east of England is the third most prosperous area.
Surging property prices and big returns in equity markets in recent years have combined with higher wages and employment rates to create more millionaires as the UK economy gets back on track.
The research shows that every UK region is now more affluent than it was five years ago, with measures including household wealth, gross domestic product (GDP), exam results, charitable donations and entrepreneurship taken into account.
According to the Office for National Statistics, the richest 10% of households own 44% of household wealth.
Akshaya Bhargava, chief executive of Barclays Wealth and Investment Management, said: "The UK is becoming more prosperous, with every region having grown in affluence since 2010. It is also encouraging to see that regions and cities are starting to close the gap with London in terms of prosperity, with the north-east, for example, seeing business growth rates behind only London."
London and the south-east remain the most prosperous regions, and the capital boasts the most millionaires, up 48% in the past five years to 191,000 – more than the combined millionaire population of Wales, Scotland, Northern Ireland and northern England.
The east of England comes in third behind these two, as rising house prices push more wealthy Britons outside of London, with 23,000 more millionaires calling the eastern region their home.
Reading is listed second for prosperity in the UK, according to the index, with average earnings of £30,562. Growing numbers of entrepreneurs in the UK is also seen as a factor in increasing wealth, with Cambridge emerging as a startup hub and ranking third.
The north-east and Newcastle fall low on the prosperity index. But the study showed the highest rate of growth in millionaires was in the north-east and Wales, both up 50% since 2010. The study said northern regions "may be on the cusp of change, with the north-east leading the way".
Despite the jump in wealthy Britons over the past five years, the research said growth in millionaires was expected to return to more normal levels over the long term, with a 9% increase in the UK expected by 2025, in line with GDP growth.
Cities ranked by prosperity
1 London
2 Reading
3 Cambridge
4 Birmingham
5 Bristol
6 Leeds
7 Cardiff
8 Manchester
9 Liverpool
10 Newcastle
http://www.theguardian.com/