If You're an Adventure Lover
Forget the Hamptons—there's getting away for the weekend, and then there's actuallygetting away. We're talking two months exploring the Yukon or 135 days trekking, climbing, and kayaking across Patagonia. The National Outdoor Leadership School (NOLS) offers trips all around the globe, of all lengths and focuses, so you can ditch the suit and smartphone and get in touch with mother nature. If your job doesn't come with a sabbatical (take that up with the boss), there are one-week salmon river rafting trips($2,400) and two-week backpacking trips through Scandinavian wilderness ($3,910) that are more beginner friendly. The more adventurous with time to spare, though, (read: students) can really immerse themselves in a monthslong experience. For the undergrad in your life, there's a 75-day trip to East Africa that includes climbing Mount Kilimanjaro ($17,900) and a four-and-a-half-month excursion to Patagonia ($28,645) that can also involve getting certified as a Wilderness First Responder. Just think of how good the happy-hour stories are going to be when you get back.
If you want something a little cushier (I'm looking at you, person who considers a two-star hotel "camping"), conservation group Ocean Doctor leads trips to Cuba's Garden of the Queens shark preserve (from $7,854), where only 1,000 people are allowed to dive each year. 
If You're a Whisky Collector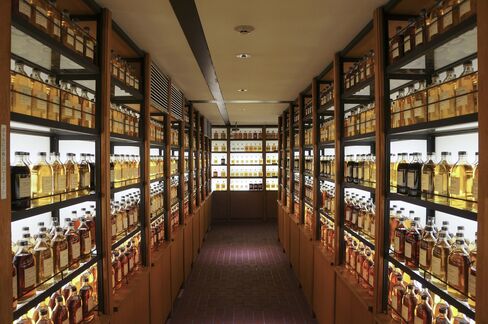 You've tasted a few great Japanese whiskies by now, and you understand the fuss. But to really deepen your knowledge, go and experience the terroir for yourself. On a 12-day tour of Japan's top sake makers, distillers, brewers ($8,759 per person), learn how a new generation of distillers has managed to rise to the top of the international game. The full pilgrimage goes all the way from Yamazaki—the country's first whisky distiller—to Mars Shinshu and Yoichi, Nikka's plant on the beautiful island of Hokkaido. Got a wine-loving companion? Go ahead, make it a double. Le Baccanti offers a custom-built trip through Italy that takes you deep into the history and contemporary production of Barolo, Brunello, or Super Tuscans.
If You're a Cynical Traveler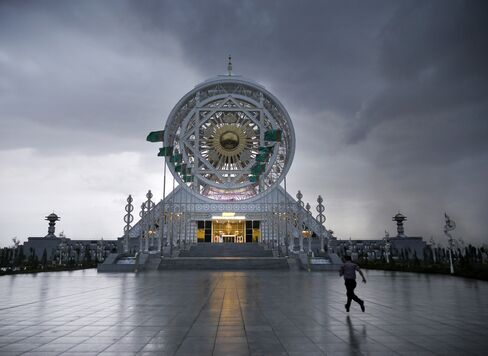 Still searching for an "authentic travel experience?" Stop. A McDonald's in Hanoi can be as soulful as a gaucho's campfire in the Argentine pampas, given the right companions and frame of mind. What you're really after is a place that makes you feel different—un-moored, a bit out of step from the rest of the world. You want a place like Turkmenistan.
Wedged north of Iran and Afghanistan east of the Caspian Sea, it's home to virile Akhal-Teke racing stallions, ruins of a civilization as ancient as the Egyptians, and the "Door to Hell," a giant dusty crater in the middle of the desert that's been belching flames since 1971. The grandiose yet ghostly, white-marbled capital of Ashgabat has layers of the surreal, from shrouded workers forever sweeping six-lane highways to epic Tomorrowland-like monuments and massive (but empty) five-star hotels. It's like a Central Asian Vegas that arrived early to the party. How is this so? Fueled by natural gas reserves and presidential cults of personality that recall Kim Jong Il, the government has held an autocratic grip since gaining independence from the Soviet Union in 1991.Yes, that's problematic: Impoverished villages contrast with 24-carat gold-plated statues, bookstores carry only official works by President Berdymukhamedov, and the region's largest mosque (capacity: 20,000) sidelines inscriptions from the Koran for those from the Ruhnama, a spiritual guide and folkloric "history" of the nation written by the previous ruler. Yet … there's no other place on earth like it. To visit, you'll want to check your privilege, leave your politics (and cigarettes) at home, and watch where you take a selfie (Instagram doesn't work here anyway). With the mandatory guide and driver at your side, Turkmenistan is safe—and utterly fascinating. DN Tours can get you there.
If You're a Watch Nut
While it might set you back a small fortune to put down a deposit on one of the latest complicated wristwatches, learning how to make or service a watch yourself is more affordable than you'd think. The most logical place to start is the two-day workshop for servicing a pocket watch at the National Watch & Clock Museum in Columbia, Pa. ($400), and if you feel like investing in some real watchmaking tools, you can learn to service a Swiss wristwatch, too ($695). If venturing out to Pennsylvania is too much, watch blog Hodinkee hosts classes in Manhattan with the Horological Society of New York that start at $150 and take up only an evening. They fill up quickly, though, so register early or inquire about a booking a private session. You might not walk out of these classes with anything new and shiny on your wrist, but the watches you already own will seem so much more impressive for your effort.
If You're a Gear Head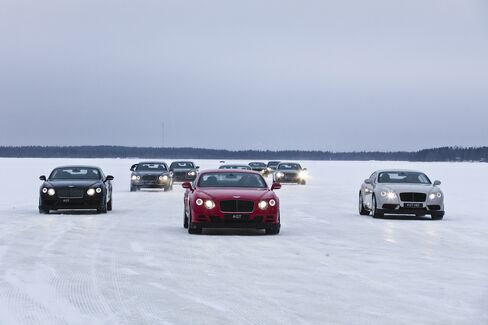 Luxury Driving Schools are a dime a dozen, especially in winter. Land Rover, Porsche,BMW, Aston? Sure, they've got 'em. But only Bentley is offering its entire lineup—including the $232,000 Bentayga SUV—to you and other VIP customers. On an ice lake. In Finland. Test, dissect, and drive the guts out alongside professional drivers while befriending owners who love the brand as much as you do. (And yes, if you really want to blow your bonus, Bentley will be more than happy to let you put in an order after you've put a favorite through its paces.) The package includes a stay at the posh Hotel at Ruka Peak, dog-sledding excursions, dinner at the famous Kota restaurant, fast laps with world rally champion Juha Kankkunen, and finally, a total decompress in a traditional Finnish smoke sauna back at the hotel. The whole thing takes three days and costs nearly $20,000. Rest assured it'll sell out quick.
If You're a Foodie
If you follow food culture, then you've probably heard of Los Angeles chef Craig Thornton, aka the Wolf, aka the 33-year-old creator of Wolvesmouth, one of the hottest tasting-menu tickets of the past few years. The underground, pay-as-you-will, punk-infused dinners he threw at an Arts District loft garnered him a New Yorker profile and a mailing list now numbering near 50,000. (It's the only way to get tickets). That begat a 2013 "Cut Your Teeth" series at the Santa Monica Museum of Art that was as much dinner party as installation—a riot of colors, textures, and excellent modern American food eaten in a "darkly wooded den" of taxidermy, moss, and plants, with blaring music and smoke machines, all under a coyote-tooth chandelier. A 2014 revisit ended with diners smashing some 2,000 plates against the wall. Now he's at it again.
Although Thornton is holding specific details close to his chest, he tipped us off to a new participatory dinner series opening at end of March and running through July at another major L.A. institution: nine courses; a meaty menu inspired by surrounding sculptures; 22 diners per seating max; tickets in the $250 range. Though all this could change, of course. With Thornton, it's best to delight in the unexpected. (Although this being bonus season, splashing out with a private buyout can guarantee you'll get in; e-mail for dates.)
In the meantime, there's Sharksteeth—sporadic, small-scale, seafood-focused nights run out of his Los Feliz events space. If you're not in Los Angeles, you could try to hook up with the global "Dinner en Blanc" series or pitch a local supper club such as New York's exclusive Spring Street Social Society to see if you can become a member. 
If You're a Spiritual Being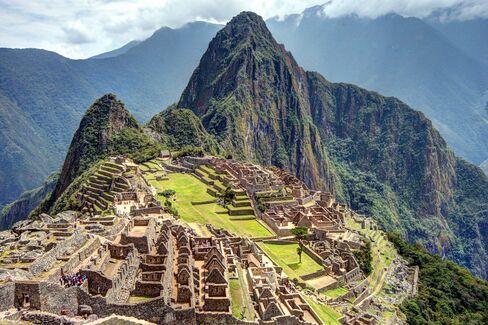 So you like travel and exploring the history and culture of different lands, but many of your trips have not had enough personal enlightenment? Try a meditation-centered journey through Peru, where you can experience some of the amazing historical sights and wonderful local food and also explore your inner terrain with a focus on silence and meditation. Meditation Retreat Peru runs a variety of trips through the mountainous country, exploring the important archaeological sights of the Andes and also taking time to concentrate on reflection and personal growth. Its 12-day trip through Machu Picchu and Lake Titicaca includes exploration of Cusco, Machu Picchu, and Pisac—plus three full days of silent meditation. (It's longer than you think—way longer.) The $2,500 fee includes some meals, yoga classes, and all accommodation—plus, there is a maximum of 10 travelers per trip.
We know what you're thinking: With all this South American self-exploration, where's the ayahuasca? There are many trips in Peru where you can dip your toes into that transformational experience. But do your research and consult a doctor before even visiting those websites, OK?
If You're an Architecture Buff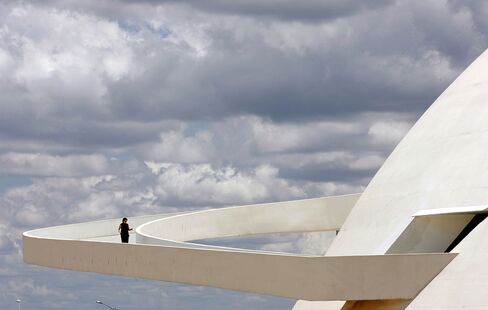 Even if your bonus is big enough to buy a house (and if so, congrats), given the current real estate market you might be better served by merely looking at architecture instead. The city of Brasília, designed from scratch by Oscar Niemeyer and Lúcio Costa, is arguably the most stunning, and certainly the most monumental planned, community of the past 60 years. Brasília was built in the barren highlands of the center of the country to replace Rio as the capital in 1960, and everything in the city is on a grand scale. You can debate its merits as an actual place to live (surprise, residents of this government town find the six-lane highways bisecting its center a little impersonal), but as a center for architecture it's truly unprecedented. 
Visitors can take four- or eight-hour architectural tours led by a trained architect—tours for a small group range from $230 to $420, depending on the time. As for lodging, be prepared for decent, not spectacular accommodations—the city has yet to fully embrace the 5-star trend. At the Golden Tulip Hotel, arguably the best in Brasília, a suite will cost about $160 a night.
If You're an Art Collector
You can bid on works of Picasso, Matisse, Léger, and Braque in auctions around the world, sure, but instead of investing in a painting or sculpture to secret away, why not instead take a trip to the studios where the giants of European modernism worked, the buildings where they personally installed their works, and the houses and foundations where they and their friends created one-of-a-kind, magnificent installations? That is, the South of France. Base yourself at the Hôtel du Cap-Eden-Roc, one of the most pleasant, sophisticated places to stay on the French Riviera despite its popularity (notoriety?) as a destination for Russian oligarchs and Naomi Campbell. The hotel rooms—even the ones facing the courtyard—are a charming combination of faded chintz and five-star luxury, and most of the following five destinations can be reached in less than an hour by car. Splurge on a luxury convertible for all the winding, hillside roads.
If You're a Movie/TV Fanatic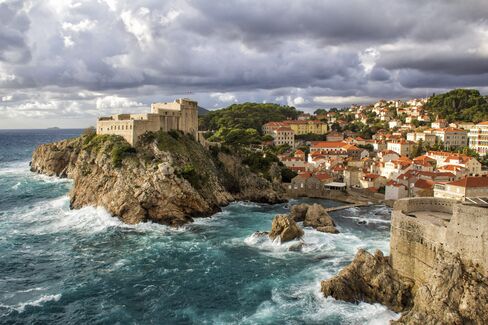 OK, so you're probably not going to buy a castle like the ones in Westeros, which you love watching in Game of Thrones on HBO. But you can visit many of the real-world film locations used in the show. For a couple hundred euros (plus airfare and accommodation), you can take a walking tour of Split, Croatia, where many of the Mereen scenes were shot. Spend some time in Dubrovnik while you're there, too—you may recognize bits of it as King's Landing. And finally, spend some time North of the Wall in Iceland on the 610 euro "Beyond the Wall"  tour and see locations where John Snow, Ygritte, and the Free People fought (and potentially died). 
There are also elaborate driving tours of New Zealand for Lord of the Rings fanatics (you can sleep in an actual Hobbit hole), and the Scottish tourism board has put together an extensive itinerary that links together the scenes filmed for Outlander. Talk about a literal fantasy expedition!