A flight can be a traumatic experience for a pet and (unlike on a commercial flight) this trauma can be lessened on a private jet charter by the calming presence of their owner as they travel with them in the aircraft cabin. 

Provided all the pet documentation is correct and up-to-date, we are able to make all the arrangements for clients who wish to travel with their domestic pets, ensuring the animal's welfare and comfort at all times.

Each country has varying rules and regulations as to the importation of pets, PrivateFly works closely with various agencies to ensure that the process is as simple and transparent as possible in each location.

Recent pet travel regulation changes have made it even easier to fly with your pets on private jet charters in the UK and Europe as follows:
FLYING WITH PETS IN EUROPE AND THE UK
Many airports and private jet operators now have approval to handle private charter flights with pets onboard and the UK government has a scheme called PETS (Pet Travel Scheme) which allows pet dogs, cats and ferrets from certain countries to enter the country without quarantine as long as they meet the rules.

UK residents can take their pets to other European Union (EU) countries, and selected non-EU countries and return with them to the UK, without the need for quarantine.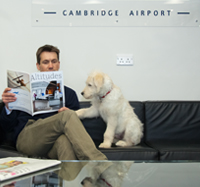 Dedicated UK Pet Airports
Blackpool
Cambridge *NEW*
Doncaster
Leeds Bradford International
London Biggin Hill
London Oxford
London Stansted *NEW*
London Heathrow
Manchester
FLYING WITH PETS IN THE USA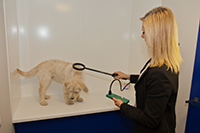 The US Department of Transportation and their Department of Agriculture have the following guidelines for flying with pets within the USA:
Dogs and cats must be 8 weeks old
Animals must have been weaned
Require proof of rabies vaccination
Each State has specific Centres for Disease Control (CDC)
http://www.privatefly.com