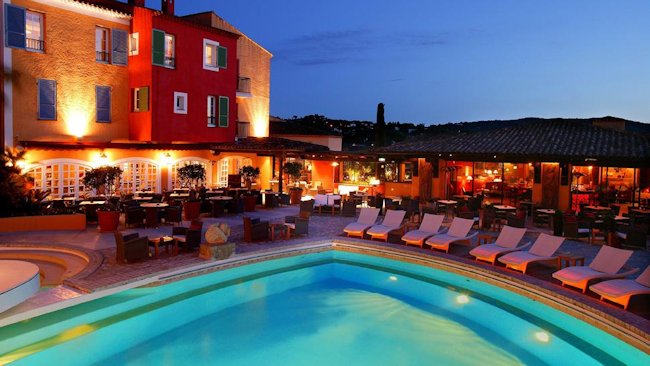 The iconic Byblos Hotel in Saint Tropez announces the opening of Alain Ducasse's latest culinary concept, Rivea. 

On the initiative of Antoine Chevanne, Executive General Director of Groupe Floirat, Rivea replaces the current restaurant -- Spoon, another Alain Ducasse creation. Rivea debuts in conjunction with the season opening of Byblos on April 25, 2013. 

Rivea, the historic word for Riviera, showcases Chef Ducasse's ongoing quest for the freshest produce on spotlight in his innovative Mediterranean cuisine. For over 25 years, Ducasse's culinary offerings and dedication to fresh and rich flavors, have confirmed his reputation as one of the most celebrated chefs in the world. 

'We have moved forward together for over 10 years and our complementarities are a real strength for Rivea,' said Antoine Chevanne, Executive General Director, Byblos St Tropez.

Remaining faithful to his Mediterranean roots and flavors, Chef Ducasse has crafted a menu that blends French and Italian influences with fresh, local, seasonal ingredients. Brought to life through the talented hands of Chef Vincent Maillard and his team, Rivea offers a selection of appetizers for share from fresh homemade pastas, to fish and seafood. Signature starters include caponata, rock octopus salad, sardines comfit in basil, chick pea and sheep curd soup and vitello tonnato. Delectable entrée selections range from swordfish steak and panisses, sautéed gamberoni and vegetables, to handmade pasta with clams, golden-brown poultry and vegetable cocottes. Conclude your meal with classic desserts -- such as the Tropezienne cake, revisited and served with citrus zest.

Complimenting Chef Ducasse's Mediterranean-style menu, Italian duo Antonio Citterio and Patricia Viel, who have garnered recent acclaim for their design of the Bulgari Hotel, London, have constructed a venue which holds true to the French and Italian Rivieras through use of locally sourced wood, and an interior design resembling a winter garden through an elegant metal greenhouse. A slightly retro décor has been created through coral and terracotta textiles, irregular stripped booths and singular lanterns placed as the centerpiece on dining tables. 

Byblos St Tropez evokes the charm, elegance and grandeur of the historically glamorous French Riviera. With 41 rooms and 50 suites, all uniquely decorated by Mireille Chevanne, President of Byblos, the Hotel is a haven for international clientele.


To learn more about Byblos St Tropez, please visit http://www.byblos.com. 
http://www.luxurytravelmagazine.com